Home » Sam Yeldham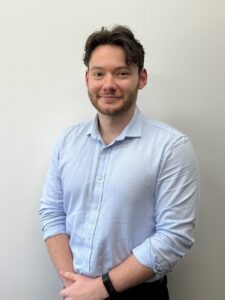 About Sam
After completing his Management BSc degree from the University of Bath, Sam joined Thompson & Terry Recruitment. In June 2022, he joined the graduate scheme as a Graduate Business Executive keen to start his career in recruitment and grow his business skills and knowledge.
Sam's desire to understand deeper how a business works and to put the knowledge he learnt from his studies into practice led Sam to join Thompson & Terry Recruitment to explore recruitment, marketing and other business areas. His experience in customer service roles has taught him the importance of maintaining good relationships with customers through having a friendly, honest and enthusiastic approach to people.
When Sam isn't busy wedding planning with his fiancée, he enjoys working out in the gym, playing the acoustic guitar and reading the critically-acclaimed Jack Reacher books. He has recently moved to the Oxford area excited to explore and see what the city has to offer (as you'll guess Ben has recommended Oxford United!).
Contact me
For more information on how I can help, contact me on 01235 797 177 or email me at sam@thompsonandterry.co.uk.